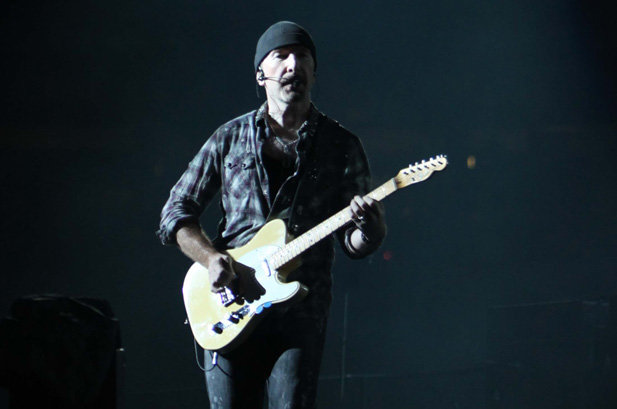 In 2006, New Orleanians were ready for the Superdome to reopen, and on Sept. 14, the excitement multiplied exponentially when U2 and Green Day announced that they would perform as part of the pre-game festivities Monday, Sept. 25 before the Saints played the first game back against the Falcons on Monday Night Football.
"The Saints are Coming" has been part of the team's game day since Green Day and U2 debuted it that night, but it was a risky choice. The song wasn't well known, and when Scottish punk band The Skids released the song in 1979, it was about a friend of singer Richard Jobson, who joined the British Army and was killed in Northern Ireland.
U2 and GreenDay The Saints Are Coming – LIVE – New Orleans Then-Saints executive vice president Rita Benson LeBlanc told NOLA.com|The Times-Picayune in 2011, "Listening to the original, I had to cringe." All she heard was "an extremely harsh and barely understandable punk song."
U2 guitarist The Edge loved the song and thought it would be perfect for Green Day. "I could hear them playing the song and knew it would work so well," he told "Good Morning America"'s Robin Roberts in 2006. The Edge had been involved in relief efforts for New Orleans musicians through Music Rising, and he wanted to do something public for New Orleans. When he thought of the song and Green Day, he had it. That summer, the groups convened at Abbey Road studios in London to record the song.
Ken Ehrlich produced the segment for ESPN. He has won Emmys for his production of The Grammys, so he had experience making live music translate into people's living rooms. Ehrlich in turn brought in New Orleans Jazz and Heritage Festival producer Quint Davis to wrangle the performance.
"I told the ESPN people that they couldn't pull this thing off without Quint, and as it went along, they realized that as well," Ehrlich said.
Davis and his Festival Productions team had to not only put two bands on stage in the middle of the Superdome, but he had to get that stage on the field, assembled, and safe with a few thousand people in front of it in the space of a commercial break. He and his staff spent days rehearsing every step of the process, including getting the musicians from their dressing room to the stage.
"It's what we're built to do, but to do this one gig took the whole company," Davis said.
When Davis' team asked Big Sam Williams if he'd like to play, no one mentioned U2 or Green Day. He was told that "they" wanted to get a bunch of the locals to play the reopening of the Superdome. Williams lived in San Antonio after Hurricane Katrina, so he jumped at a chance to see musical friends and didn't realize something was up until a couple of days later, when people were secretive.
The giveaway was practice—something New Orleans musicians joke about not doing. "We were going to rehearse the day before and the day of the show? What's going on? Then they said it was going to be Green Day and U2. I was like, OK, this is awesome."
U2 (Feat. Green Day) – The Saints are Coming Rebirth Brass Band were also on the gig, and Stafford Agee was one of the few members still in town at the time. He lived in his parents' house without electricity, but he had a blanket, candles and a working restroom. "I was trying to get things back in order," he said.